Cooking Without Electricity
For literally thousands of years, people cooked without electricity. But if the power goes out today, most of us would be reduced to eating granola bars and maybe some soup straight out of a can.
And I freely admit that if I think the electricity is going to be out for just a few hours my daughter and I usually eat cold leftovers, Nutrigrain bars and anything else that is handy.
But, if we're in a storm situation or other scenario where the power may be out for days, I know that my daughter is going to need real food. There are lots of ways you can provide your family with a warm meal even without electricity.
Gas Stove
I love cooking with gas and I hate that my current house only has an electric range. But if you think a gas stove will solve all your problems, you're wrong.
First you need to see if your house is piped for gas. Mine is not and the gas company quoted me $1,500 to run the line the 12 feet from the street. So, that is going on my wish list.
Also, unless your stove is older than you are it most likely has an electric ignition which won't be working during that power outage. Now, some models will still allow you to light it using a match or a fireplace starter.
Here's a video of a gentleman doing just that during a power outage.
Wood-burning Stove
My grandfather had a wood-burning stove in his living room and I remember gladly volunteering to keep the fire alive. I felt so important opening the side door and using an iron poker to push and pull the logs around.
Now, this stove was just used for heat but it did not have a surface that was big enough to hold a few small pots or one large skillet.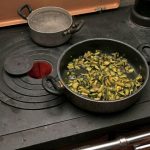 There is a second type of wood stove and this is one that is designed specifically for cooking. They complete with multiple burners and an oven. They are pretty pricey but if you have a basement it would be a great asset in an emergency.
Wood-burning Fireplace
Most of us are used to having a wood-burning fireplace as a means of warmth during those cold winter months. But this is also a handy means of cooking in an off-grid situation. There are even accessories available to turn your fireplace into a full-service cooking tool.
I am not including gas fireplaces in this list specifically because there are so many warnings about using them to cook food. There are a lot of concerns about grease or other food particles dropping onto the pipes and logs and possibly damaging them.
Propane
Backyard grills are one of my favorite alternative cooking methods. I have a propane grill on my deck and I find it so much more convenient than charcoal. Now that I've become comfortable with switching out the propane tanks, you can often find us grilling hamburgers during the summer at least once a week or so.
However, propane is not just found in large grills. There are several smaller tabletop options. I have a Coleman two-burner version that we take camping. It has always served us well when we're frying up some bacon and eggs.
Charcoal
This is a tried and true method that most people are comfortable with. Charcoal grills come in all shapes and sizes but it takes a bit more effort than propane or natural gas.
First, you have to make sure you keep a supply of lighter fluid handy.
And second, it can take upwards of 20 minutes to get the coals to an appropriate temperature. They do make charcoal with lighter fluid now and that helps tremendously.
Cleanup is also a pain. I hate having to deal with the ashes which is why I love my propane grill. I will give charcoal a thumbs up for flavor though.
Natural Gas
Grills that run on natural gas are extremely similar to propane. It is true that propane is more popular but this is because of the extra BTU kick that propane has over natural gas.
If you already have a gas line in your home, you can run an extension out to your patio. You'd never have to worry about switching out tanks again. If you have the space to build an outdoor kitchen, this is definitely an option you should consider.
Butane
There are some really cute butane portable stoves in the camping sections of the bigger retailers. They are single burner stoves with a small butane canister and matchless ignition.
While they are small, they do put out 8,000 BTUs so it could definitely come in handy to cook soup, tea or other one-pot items. And did I mention that they are really inexpensive? I saw one the other day for less than $20. The replacement butane cartridges are also pretty cheap at around $3/canister.
Solar
If you're looking for something that you could literally take anywhere, then this solar oven might be the perfect item for you. Since it relies on the sun's energy, you never have to worry about carting around a bunch of fuel. As long as you have some sun and blue sky, your solar oven can cook up some brownies, pizza or even nachos.
There are several commercial options on the market but you can always go old school and build your own. This is actually a great project to do with your kids and introduce them to becoming more self-reliant.
Open fire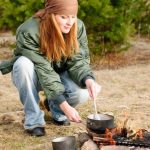 Here is another tried and true method. As long as you can find some wood and matches you should be able to build a fire in your backyard or even on your patio. Honestly, having a fire-starting kit and some dry wood is a great contingency for those times when the power goes out.
You can get a campfire grate pretty inexpensively and this will allow you to use pots and pans. Don't forget to put safety first and keep your fire contained. You don't want to inadvertently burn down the neighborhood while making dinner!
Dutch Oven
I have to admit that this is an area in which I'm lacking some real experience. Dutch ovens are so versatile – you can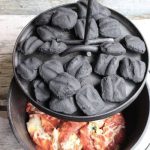 cook bread, desserts, chili, pasta, etc. I've used mine only twice – to make baked spaghetti and a cobbler.
They're portable and can be used on many different heat sources, including your stovetop.
Cooking in a Dutch oven requires some practice. Don't buy a Dutch oven and then stick it in a closet and then pull it out when you need it. There are a ton of recipes on Pinterest so start looking.
Buddy Burner
If you were ever a Boy Scout or a Girl Scout, you probably know exactly what I'm talking about. You take some simple items such as a #10 can, a tuna can, cardboard and some paraffin wax and you've got a stove that will cook up the best foil meals you can imagine.
If you really want to relive your scout years, you can always make some egg carton fire starters after you finish your buddy burner.
As you can see, losing electricity is not the end of civilization. It may require a bit of adjustment but there are plenty of alternatives as you can see.
I suggest that you work on adding at least 2-3 into your prepper strategy so that when the time comes you can make a stressful situation less so.